If you're searching for simple and tasty recipes, you've come to the right place.
Sesame salmon with egg fried rice and paksoy. Add the rice, peas, salmon, eggs, soy sesame and lemon juice and gently stir to mix. Heat until piping hot before serving. Top tip for making Salmon and mushroom egg fried rice.
One of the all-time best Sesame salmon with egg fried rice and paksoy ever! . Truly the best Sesame salmon with egg fried rice and paksoy recipe! It's super-easy to create,its SO incredibly cozy and delicious, instructions included below.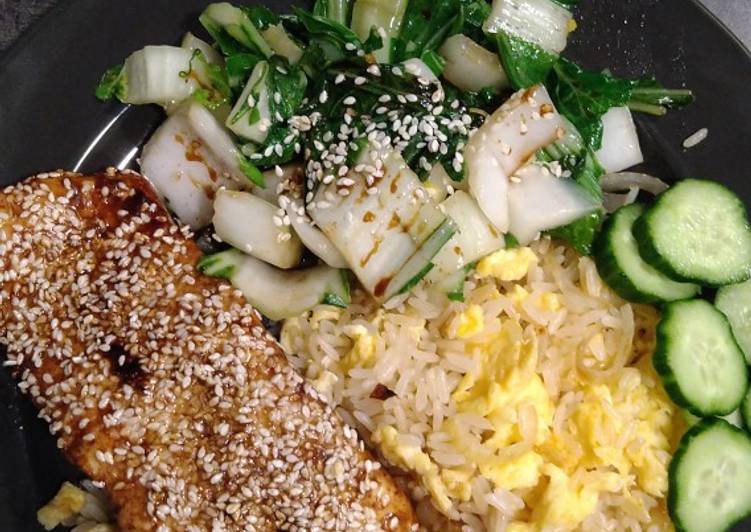 Serve the pak choi in shallow bowls, top with the salmon and spoon over the juices. The best thing about making too much rice is that you have leftovers for fried rice, you know, the kind with some egg swirled in, chopped vegetables and a soy sauce based sauce. Season the salmon with salt and pepper and place it on the prepared baking sheet. You can cook this recipe using 18 ingredients with 16 steps. fine don't waste time, merely go ahead This is how you cook it. .
What You Require to Make Sesame salmon with egg fried rice and paksoy
You Require of Egg fried rice.
Prepare 250 g of rice.
Prepare 2 of big eggs (or 3 small eggs).
Prepare 1 of onion.
Prepare 1 of garlic clove.
You need 1 piece of fresh ginger (to taste).
You need of (optional) 1 tbsp sugar.
You need of Sesame salmon.
You Require 2 of Salmon filets (preferably with skin).
You need of Sesame seeds.
Prepare of Soy sauce.
You Require of Sesame oil.
Prepare of Rice vinegar.
You Require of Honey (or oyster sauce or sugar).
Prepare of Sides vegetables.
You Require 1 of Paksoy.
You Require of Neutral tasting oil (arachid oil).
You Require of (Optional) cucumber.
Stir well, mixing the vegetables and rice together. Fry for a few minutes, mixing constantly with the spatula. Salted salmon was always one of my favorite fillings. If you are lucky enough to live near a Japanese market, you may be able to find shiozake (salted salmon) for sale, but this recipe takes advantage of a more readily available cured fish that Flake fish with a fork and mix with the rice and sesame seeds.
Step to Make Sesame salmon with egg fried rice and paksoy
Prepared to cook? Here's what you need to do :
The sesame salmon.
Mix the honey, rice vinegar, soy sauce, part of the crushed garlic and ginger, and sesame oil (to taste). Make sure to taste this glace and adjust when necessary!Add the salmon to the glace and let it sit for at least 15 minutes..
Take the salmon out of the glace and sprinkle the sesame seeds on the salmon..
Put in the oven at 200°C (392 °F). Frequently, poor some of the glace over the salmon to make sure it does not dry out..
The egg fried rice and paksoy.
Cook the rice following the package instructions and let it cool down.
Cut the paksoy in strips, cut the onion, crush the garlic and ginger to a pulp..
Heat up the wok (high heat) and add a neutral tasting oil (arachid oil). Toss the paksoy strips in the wok and stir for about 3 min..
Take out the paksoy..
Add neutral oil to the wok and caramelize the onions..
(optional) add sugar to aid the caramelization of the onion..
When the onion starts to brown, put the cold rice in the wok and stir frequently for about 3 minutes..
Put everything to one side of the wok and add the egg. Leave it untouched for 20-30 seconds and then stir it..
Mix it with the rice and the rice is ready to serve!.
Put everything on a plate and garnish with some raw cucumber slices..
Enjoy!.
Japanese rice (or use brown rice if in a rush) teamed with tenderly cooked salmon and eggs with sake Remove from the heat but keep it warm by covering with a lid. Heat the oil in a small frying pan and Divide the rice between two bowls. Top each with half the egg, the fish, avocado and sesame. Stir it through the rice and taste it - you may need to add a little bit of salt. The fish skin should be crispy, so if you like it, crumble it over the finished dish and Soy and sesame salmon with noodles and crispy kale.
As always, thank you for reading this blog, that allows me to share more unique content and recipes for you.
Sharing is caring!
Happy cooking ... Cheers, friends!